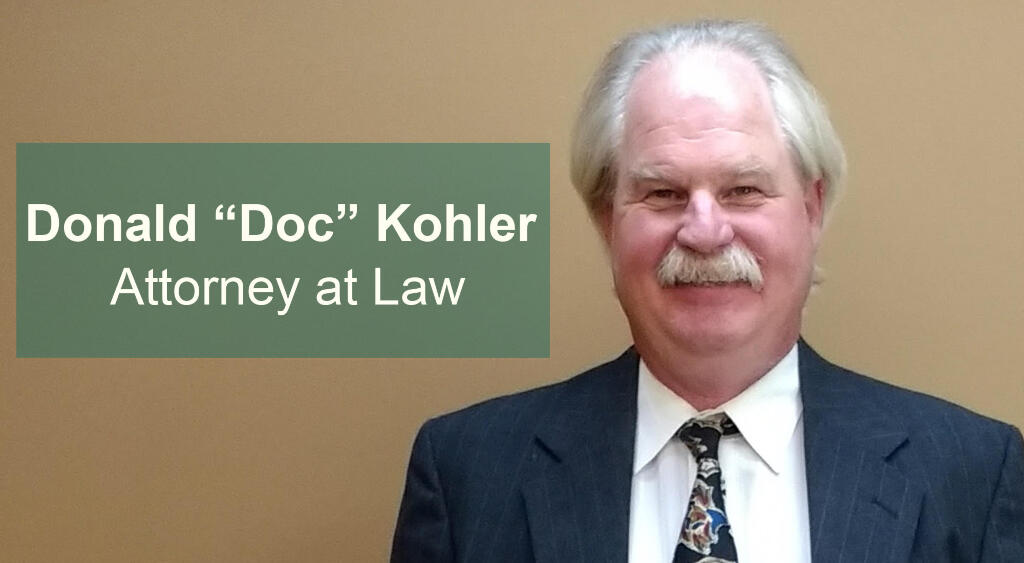 Before earning his law degree in 1998,
Mr. Kohler graduated from Metropolitan State University in St. Paul, MN, with a BA in Communications in 1991. Prior to and while going to school, he worked at United Parcel Service.
LEARN MORE ABOUT DON KOHLER

Attorney Donald W. "Doc" Kohler devotes a significant portion of his legal practice to helping injured employees receive workers' compensation benefits after sustaining an on-the-job injury or illness. Before becoming an attorney, Mr. Kohler went through the workers' compensation system himself; he understands the emotional and physical nature of dealing with a workplace injury, including how it impacts relationships with your employer and family members.

Our firm has represented all types of workers in all types of industries, including construction workers, industrial workers, office personnel, restaurant servers and beauticians.



Minnesota Workers' Compensation Law



The Workers' Compensation Act was established by the Minnesota Legislature to provide benefits for employees who become injured at work. Benefits cover injuries or illnesses caused or made worse by work or the workplace, and are paid regardless of any fault of either employer or employee.

Under the Act, employers are required to carry insurance for employees. In Minnesota, there is no minimum number of employees necessary for the Act to be applicable to an employer, and in most cases, any employer-employee relationship will cause the employer or its insurance carrier to be responsible for workers' comp benefits.



Collecting Workers' Comp Benefits



In order to collect workers' compensation benefits, report any injury to a supervisor or employer as soon as possible. Benefits may be jeopardized if an injury report or notice is not given to an employer within the time periods prescribed by law. After receiving an injury report, your employer will begin the process necessary for an injured employee to collect benefits. Generally, workers' compensation will pay:

Reasonable and necessary medical care related to the injury
Wage-loss benefits
Permanent partial disability for loss of function related to your injury
Vocational services, including rehabilitation and, in some cases, retraining

An injured employee is also entitled to the following monetary benefits:

Temporary Total Disability (TTD)

- This is monetary compensation of 100% of the state wide average weekly wage at the time of injury, up to $750 per week. This amount is payable to the injured employee for the period of time the employee is unable to return to work at all.

Temporary Partial Disability (TPD)

- If the work injury results in a lower paying position, the employee is entitled to wage loss benefits of 66.66% of the difference between the lower paying position and his or her gross weekly wage at the time of injury.

Permanent Partial Disability (PPD)

- This is compensation in a lump sum payment (benefits payable over a period of weeks) as payment for the functional loss of use or impairment of function of a body part. PPD benefits are calculated by multiplying the percentage of disability by a graduated monetary schedule established by the Minnesota Legislature.



Certified Managed Care Plans



In most circumstances, an injured employee may choose his or her own health care provider. However, if the employer participates in a certified managed care plan, with certain exceptions, the injured employee must go to a provider in the certified managed care network. If you are covered by a certified managed care plan, your employer must post a notice that shows how to get treatment using the managed care plan and provide the name and phone number of a contact person.

If in doubt, ask your employer or their insurer for a list of providers in the plan, or contact the Minnesota Department of Labor and Industry for confirmation of the employer's certified managed care plan.



Independent Medical Examinations



Once you are receiving workers' compensation benefits, your employer's insurance company may ask you to be examined by a health care provider of its choice. Generally, you will receive written notice of this request in the form of a letter notifying you of the location of the medical provider's office and the time and date of the examination. If you refuse to be examined by that doctor, the insurer may suspend your benefits Also, if you fail to attend the examination or do not give adequate notice to reschedule the examination, you may be billed directly for the examination costs.

The insurance company must reimburse you for mileage and other travel expenses related to attending the independent medical examination.



More about Health Care Benefits



Workers' compensation will pay the cost of all reasonable and necessary medical care treatment related to a work injury or work illness. After an employee receives treatment, medical providers will bill the appropriate workers' compensation insurance company directly. Chiropractic and passive treatment is limited to 12 consecutive weeks and an additional 12 non-regularly scheduled treatments over an additional 12 month period.

Also, prescription costs and travel expenses (including mileage) to and from medical appointments are payable. These bills should be sent directly to the workers' compensation insurance company.



More about Vocational Rehabilitation



An injured employee may be eligible for vocational rehabilitation services. Generally, if an employee needs help returning to work because of a work-related injury and the employer is unable to offer the employee suitable gainful employment within his or her work restrictions, vocational assistance is made available. The employee is automatically eligible to meet with a Qualified Rehabilitation Consultant (QRC) in the following situations:

It becomes known to the injured employee that he or she will be unable to return to work for at least 13 weeks.
Ninety days have passed since the date of injury, and the employee has not returned to work.
The employee has requested rehabilitation services.
If, after the initial consultation, the QRC determines further rehabilitation services are necessary, the injured employee may choose his or her own QRC. With certain exceptions, this must be done within 60 days after the rehabilitation plan is filed.



More about Vocational Retraining



Your employer's rehabilitation plan may also include retraining. The QRC assigned to the employee is responsible for preparing any retraining plan. For injuries on or after October 1, 2008, the retraining request must be filed before the employee receives 208 weeks of any combination of TTD and TPD benefits.



Contact an Experienced Attorney to Help with Your Workers' Comp Claim



It is always helpful to consult with an attorney after being injured on the job, but you should definitely talk to attorney in the following situations:

You are unclear or uncertain about your rights and the benefits available to you under the Minnesota Workers' Compensation Act.

If your work injury was caused while you were driving a motor vehicle. (These types of cases must be investigated as soon as possible to determine if you also have a claim other than under the Workers' Compensation Act.)

If your injury occurred because of a malfunction or defect of a motor vehicle, product, or job-related piece of equipment. (There are special notice requirements that need to be met in these cases to pursue a claim for damages other than workers' compensation.)
For more information, advice and representation, contact Donald W. Kohler for a free initial consultation. You pay no legal fees unless we obtain benefits on your behalf.



Helpful Resources



Employee guide to Minnesota's workers' compensation system - Minnesota Department of Labor & Industry